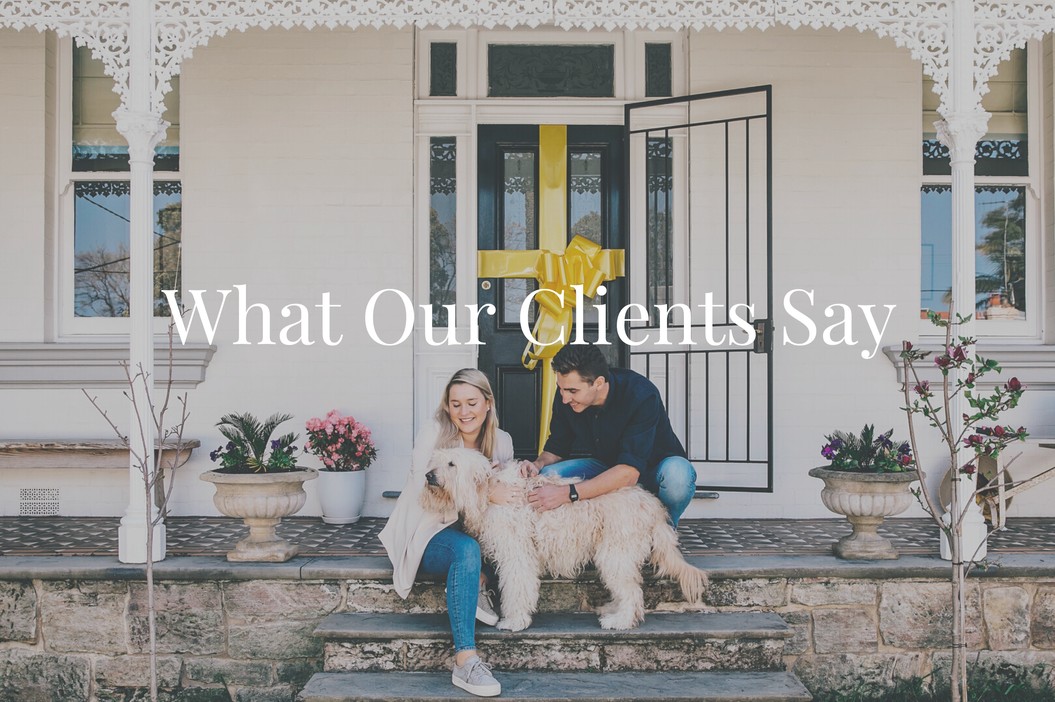 We are a company built on exceptional service – it's the foundation of our culture and values. We ask every client what they think about our service and here's what they have said
We recently had the pleasure of working with the team at Ray White Macleod. Right from the word go they were friendly, approachable and able to answer all of our many questions with absolute professionalism and honesty. We were absolutely thrilled with the result after selling our home prior to auction and would have no hesitation in recommending Brett, Ash and Steph and in fact, we have already done so. Thanks again guys for the fantastic job and support. We really appreciate your efforts and the calming effect you had on us. This could have been a stressful situation for us but just knowing that you had everthing under control and were working so hard behind the scenes made it all seem easy.
Ian & Cathy – Macleod
Brett was a delight to deal with – he made the process of selling my home a relatively stress free process. Brett's knowledge and insight to the local market was extensive and his guidance was both professional and highly valued. I would highly recommend Brett as someone who delivers exceptional service to his clients.
Sandy – Macleod
After a very bad experience with another agent 4 years ago, I decided to go with the local agent this time. It worked out that I've done the right thing! I was very impressed with Brett's knowledge of the area. Very helpful and easy to work with plus great service.
Bernie – Macleod
Throughout the selling process, the advice Brett and Ashleigh gave us, as well as their knowledge of the area, gave us confidence in their approach and also gave us great comfort that we'd made the right choice in trusting them with our sale. The lead up to our auction, they assessed the marketing campaign and advised a strategy, which we trusted, which in hind sight was absolutely the right thing to do. We are very happy with the result that Brett and Ashleigh helped us achieve. We would not hesitate to recommend Brett, Ashleigh and the team at Ray White Macleod.
Brad & Leonie – Macleod
From day one Brett, Ash and Stephanie provided us with a friendly, professional, organised and stress-free campaign to sell our house. Having to move interstate quickly and worrying about leaving the area, they ensured we were kept up to date constantly on everything; for that we are truly appreciative and we are thrilled with the end result. We would highly recommend the team at Ray White Macleod.
Gavin & Jane – Macleod
From the moment we met Brett & Ash we knew they were the ones to sell our home of 20 years. Having never experienced the selling process before, we could not of had a better selling campaign and auction day result. They were amazing and made our whole experience so much less stressful than it could of been. Always honest, totally professional and transparent. Would absolutely recommend these guys if selling your property.
Emma & Matt – Macleod
We had no previous experience with the sale of a property, especially by auction and Brett made the whole process an enjoyable one. Brett is upfront, down to earth, always available when information is needed and his professionalism is only rivaled by his good humor. Communication with him is easy, precise and efficient and any action required, Brett takes care of it very promptly. He deserves the success he is already enjoying and we wish him all the best for the future.
Christine & Phillipe – Heidelberg Heights
After being overwhelmed with the thought of selling my unit in Macleod and the whole process, I can honestly say that it has been a breeze. Why? I had the good fortune in choosing Brett Schembri as my agent. My unit was sold within a week! I would like to thank Brett for delivering over and beyond my expectations of a stand out real estate agent. I will not hesitate to and highly recommend Brett. He has been a delight to deal with both with his professional and respectful approach. I congratulate Brett, Ashleigh and the team in Macleod for all their accomplishments and I truly believe they strive for a favourable outcome for both purchasers and vendors. Many, many thanks.
Mandy – Macleod
As a family we have been very happy with the services of Ray White, Macleod. Both Brett Schembri and Ashleigh Lawson have been attentive to our needs and went out of their way to ensure that they had a clear vision of the family's connection with the property being sold. Their outline of the process and the communication throughout were both clear and supportive. Brett in particular, who was our main contact, was very professional in his approach, easy to work with and was aware of the stresses that go with preparing and selling a property and worked with us to alleviate as many as possible. Brett responded to questions promptly and was always keen to ensure that we understood the process and were comfortable with any decisions that had to be made. Brett's weekly reports were informative and he was happy to follow up on any questions that we might have. On the day of the Auction, all members of the Ray White Team were very positive and ensured once again that we were familiar with the process and that we were clear on the possible outcomes. We would have no hesitation in recommending Ray White, Macleod and would use them again should we have the need.
The Ellt Family – Yallambie
Brett & Ash are not only great agents but great guys. They looked after me & guided me through the process of selling my beloved first home. They were attentive, experienced & very informative. I never doubted their advice & ability to get the job done. I got a great result & I will definitely use them again. Thanks guys. I really appreciate everything.
Claire – Macleod
We chose Ray White Macleod after having 3 agents come through our property. Brett and Ashleigh were very helpful and always pleasant, throughout the whole process, from preparing our house for sale, right through to the auction day. Apart from the weekly "catch up" to answer any questions or explain anything we didn't understand, they clearly explained everything that would happen on the day of the auction and we were very happy with the outcome. We would absolutely recommend them.
Don & Nola – Macleod
We would highly recommend Brett & Ashleigh to anyone wishing to sell their property stress free!. From the outset they were both easy to deal with and straight down the line honest! They new the market very well and offered great advice and also contacts to help you through the sale process. It was a stress free as it could be for us being the vendors. We thank you both for your support and honesty through this campaign.
Dale & Kim – Watsonia
This was our first sale, Brett was fantastic to deal with, great knowledge and very informative regarding the whole process. We trusted all the suggestions and recommendations that were given to us, They were spot on. The team were very honest and transparent in all aspects of the campaign. I would highly recommend Brett and the crew to anyone looking to sell. Many thanks again.
Martin & Kim – Heidelberg Heights
After selling our deceased mothers unit with Brett Schembri and Ash Lawson from Ray White Macleod we would have no hesitation in recommending them. They were always open and straight forward with plenty of communication. The day turned out to be one of the worst for weather but they handled it faultlessly. It ran just as they said it would and they prepared us for all kinds of situations which didn't eventuate. They were always well presented and their brochures and paperwork was always clear and concise so we knew exactly what was happening. I would highly recommend them to anyone interested in selling their home.
Denise – Heidelberg West
The effort and time that Brett and Ashleigh put into my property selling was truly amazing, I honestly could not ask for one more thing, If I ever had a question both Brett and Ashleigh where always there, 24/7, I would recommend anyone who is thinking on selling there house, townhouse, unit to look no further because I can tell you now, you will not get better service, Also a special thank you to Stephaine, there assistant, I know she also put a lot of time and effort in with late viewing and private inspections
Wayne – Macleod
Dear Brett, Just a short email to thank you, Ashleigh & Stephanie for all the work you did on behalf of Carol and I at Temby Street, Watsonia. It was a very good outcome and above our expectation for price. Thank you for your professionalism over this campaign.
Marilyn – Watsonia